WebPurify's Un-Gated Library of Insights: access our archive of eBooks and case studies, no strings attached
November 17, 2023 | Marketing & Operations
As pioneers in content moderation, staying ahead of the curve isn't just a goal for us, it's a commitment. In an industry as dynamic and impactful as ours, where the issues we face and topics we discuss are driving international debate, such as the potential risks and rewards of generative AI, being informed isn't just advantageous; it's essential. We understand the challenges and opportunities we face in content moderation are not just ours alone, but shared by many across various sectors and communities.
Our journey has always been about more than just providing top-tier content moderation services. It's about fostering a deeper understanding, sparking conversations, and empowering decision-making with the right information. That's why we consistently invest time and resources into creating eBooks, blog posts, and case studies that shine a light into the dark corners of our industry, giving shape to the nuances that guide our efforts to keep the internet a safe place for everyone.
However, knowledge should have no barriers. True to our ethos of being at the forefront of transparency and accessibility in information sharing, we are excited to announce a significant shift in how we share our insights.
WebPurify is now 'un-gating' its premium content. This means free, unrestricted access to our entire library of ebooks and case studies, without the need for email registration or any strings attached. We believe that by making our resources freely available, we can help a wider audience make educated decisions and stay informed about the critical issues affecting our industry.
We're not only announcing this exciting change but also providing a roundup of all the valuable resources now at your fingertips, below. From comprehensive guides on the latest in AI moderation technology to in-depth analyses of content moderation's impact on mental health, our collection is designed to enlighten, educate, and inspire. Here's a glimpse into what you can now access freely.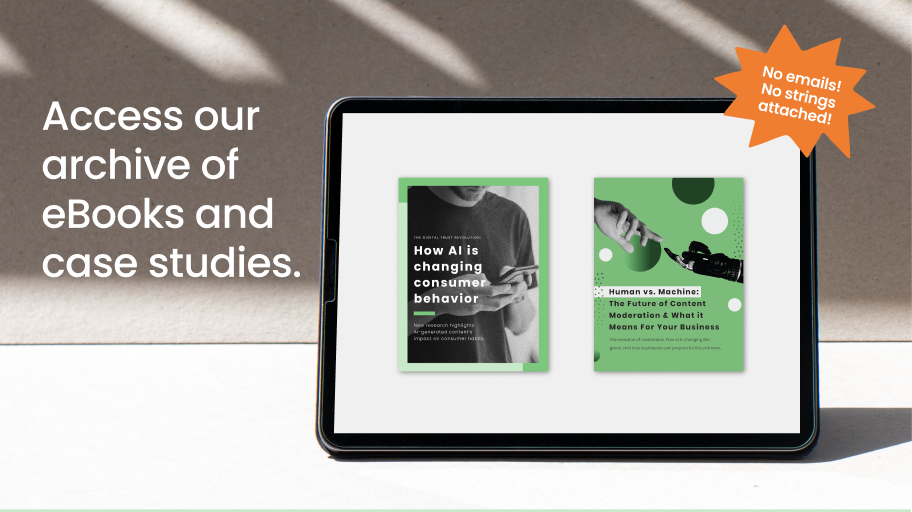 eBooks
How AI is Changing Consumer Behavior
Explores the public's perception of the rise of Artificial Intelligence and its impact on user behavior. Based on original research commissioned by WebPurify, the book features insights from experts like Sam Gregory, Executive Director at WITNESS, and Alexandra Popken, VP of Trust & Safety at WebPurify, who discuss how AI-generated content affects trust in online material, differences in perception based on gender and age, the pipeline of responsibility in handling AI-generated content, and challenges in labeling and watermarking such content​​.
Human vs. Machine: The Future of Content Moderation & What it Means For Your Business
Explores the balance between human and AI moderation, future trends, and technologies in the industry. It discusses how businesses can future-proof their moderation strategies, particularly in moderating the metaverse.
The Challenge of Moderating Harmful Content in Real-Time
Addresses the critical issue of moderating UGC on digital platforms during crises involving tragic or violent events. It encapsulates WebPurify's extensive experience in managing over 38 widely shared violent incidents, particularly focusing on the challenges faced in real-time moderation. The book includes WebPurify's Crisis Response Playbook, practical tips for crisis anticipation and response, and strategies for prioritizing mental health for both users and moderation teams during tragic events.
Best Practices for Mental Wellness in Content Moderation
Addresses the emotional toll of moderating graphic and disturbing content. It explores hiring, onboarding, specialized tools and techniques to limit the impact of offensive content, the importance of wellbeing breaks and professional counseling, and assessing wellness efforts to ensure moderators' mental health is prioritized​​.
Content Moderation in Dating: Best Practices for Platforms and Users
Focuses on how dating platforms can effectively moderate user-generated content to ensure safety and enjoyment. It provides best practices for different stages of app development, strategies to combat romance scams and harassment, safeguards for younger daters, and the benefits of using a hybrid human and AI approach to moderation​​.
Reports
Nefarious User-Generated Content Report
Analyzes millions of moderation data points across various market sectors. It provides insights into the frequency of harmful UGC, sector-specific data, risks to children, and trends in livestreamed crime, offering a comprehensive view of the challenges posed by unmoderated UGC​​.
The Multiplayer Family: Parents of Gamers
Studies the concerns of modern parents regarding the impact of video games on children. It explores the changing landscape of video gaming, focusing on insights from over 1,000 parents who are also gamers. The report addresses the dynamics of in-game content, concerns about harmful content and player interactions, and the shift from native game content to user-generated content within games as a primary concern. It also offers actionable steps parents are taking to protect their children, alongside insights on the tools and controls parents desire in gaming products to make gaming safer for children.
Case Studies
Faces Behind the Filters
Highlights WebPurify's expert Child Sexual Abuse Material (CSAM) moderation team, who have identified over a million pieces of CSAM, leading to significant arrests. It sheds light on the organizational and technological approaches developed to support CSAM moderators, emphasizing the importance of their mental wellbeing​​.
ForeVR Games and WebPurify
Highlights how ForeVR Games, a developer of social VR games, addresses content moderation challenges in the metaverse. It discusses maintaining 24/7 moderation, protecting against metaverse abuse, leveraging moderators for UX and product feedback, detecting nuanced verbal abuse, and providing specialized mental health protection for moderators​​.