World-Class Image Moderation & More
Discover a faster, more efficient way to keep user-generated content clean.
Request a Demo
Highly Trained Moderation Experts Live image moderation.
Given the complexities associated with nuance and context, our human moderators are trained to flag violations that fall into the gray areas and make final image decisions that align with your brand standards.
Learn More
Start your free trial
Image Moderation based on our turnkey criteria or your custom criteria

Trained for your specific project

Regularly assessed for speed and accuracy

Response time in minutes—24x7x365
Deep-Learning Technology AI-based image moderation service.
Our Automated Intelligent Moderation (AIM) API service offers 24/7 protection from the risks associated with having user-generated content on your brand channels—detecting and removing offensive content and unwanted images in real-time.
Learn More
Start your free trial
Nudity

Detect raw and partial nudity, adult content or suggestive images

Minors

Detect babies, children, and teenagers under 18

Drugs

Detect prescription drugs, syringes, pills, and pill bottles

Weapons

Detect handguns, rifles, machine guns, knives, axes, and more

Gender

Detect men, women, and children/minors

Blurriness

Detect low-quality images that are blurry, too light or too dark

Hate

Detect offensive symbols like Nazi swastikas and ISIS flags

Alcohol

Detect beer, wine, cocktails and other alcoholic beverages

Offensive Gestures

Detect obscene or offensive hand gestures and body language

Embedded Text

Detect text that has been artificially added to images and video

Celebrities

Detect thousands of well-known people across categories

Sunglasses

Detect faces hidden by sunglasses
Automated + Live In One Hybrid image moderation.
This one-of-a-kind solution delivers the best of automated
and live moderation through a single, easy-to-use API.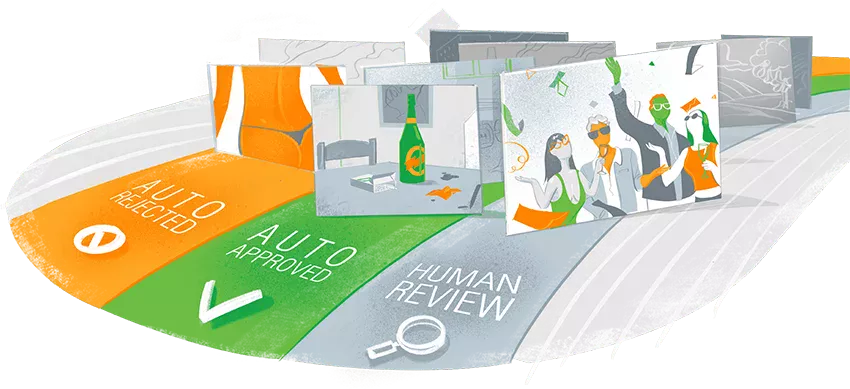 AI technology detects images with a high probability of containing undesirable content, limiting the volume that requires human review.
The remaining inappropriate images are then queued up for photo moderation by experts who are trained to flag any additional violations.
Or try it out with our sample images.
Learn More
Start your free trial
Fast, Accurate, Scalable Live video moderation.
The popularity of user-generated video increases your chances of negative exposure. Our moderators are trained to keep your video feeds and live streams free of explicit content.
Learn More
Start your free trial
Video moderation based on our turnkey criteria or your custom criteria

Scalable solution from hundreds to thousands of videos daily

Consistent results with no crowdsourcing, ever
PRECISION & PROACTIVITY Profanity filtering with offensive intent detection.
Blocking "bad" words is essential for keeping users safe, but certain sentences can still cause harm. That's why our profanity filter services also offer a powerful AI solution that detects suspicious or malicious phrases in context.
Learn More
Start your free trial
Custom Block & Allow Lists

Email, Phone & URL filter

One-Click CMS Plugins

Support for 15 languages

Servers in the US, Europe, and Asia

AI-Powered Offensive Intent Moderation (i.e., personal attacks, sexual advances, bigotry
A Foolproof Solution For
User-Generated Content
Profile Pictures
Social Posts
Stock Photography
Videos
Forums
Product Listings
Avatars
Contest Entries
Save Your Time, Money
and Reputation
Superior Performance

WebPurify solutions build on state-of-the-art models, proprietary artificial intelligence and workforce training to provide consistently accurate, auditable results.

Unmatched Speed

Automated moderation decisions are instantaneous. Our live team moderates over 90% of images in less than 2 minutes, 24x7, 365 days a year.

Ultimate Scalability

From hundreds to hundreds of thousands of posts, photos and videos daily, WebPurify automatically scales to meet unanticipated spikes in volume.
Easy Integration

A single API enables enterprise brands to launch our hybrid moderation solution quickly and easily. Detailed documentation is available.

Cost-Effective Pricing

With low-cost turnkey services and varying approaches for custom moderation projects, we offer options for every budget. Volume discounts are also available.

Total Confidence

With 10+ years experience moderating the leading online communities, apps and dating sites, WebPurify is the most trusted name in the business.
Expert Consulting to Get
You Started
At WebPurify, we're with you every step of the way—to define, optimize and proactively manage a solution that succeeds for your users and you.
1.

Strike the optimal balance between automated and human moderation

2.

Create custom criteria and success metrics for your particular application

3.

Monitor and optimize results for continuous improvement
Trusted by Hundreds of the World's
Most Respected Organizations
Find Out How WebPurify Can Help Your Business
Take the UGH out of UGC and Image Moderation, starting today!
Request Demo
Request Demo
Tell us a little about yourself, and our sales team will be in touch shortly.