Cyberbullying facts and statistics your business needs to know
April 9, 2023 | UGC
It's an understatement to say that the internet has had far-reaching impacts on society. Most people are now connected to the internet in some way, and over the last 20 years we've been spending ever-increasing time online. This trend accelerated even further in 2020, as the Covid-19 pandemic unfolded and millions of workers and school children around the world found themselves sitting behind a screen for all but a few social interactions. According to some estimates, the pandemic has pushed our digital transformation forward by seven years.
For children, in particular, the pandemic has had an unprecedented impact on their lives. Not only did their education change, but new digital behaviors have affected their socialization and other formative experiences. Many were introduced to online communities far sooner than they would have been under normal circumstances. But has this increased screen time continued, and what have been the long-term impacts on cyberbullying?
When schools reopened, most students were able to return to some degree of in-person learning. Unfortunately, the spike in screen time that occurred during the pandemic has yet to drop, with kids and teens now dependent on digital devices. In fact, 70% of parents estimate that their kids average four hours a day of screen time, as compared to 60% of parents who estimated that their kids averaged three hours or less of screen time daily, prior to the pandemic.
This increase in screen time has been linked to a rise in cyberbullying – the form of bullying that transpires through smartphones, computers, and other digital devices.
What is cyberbullying?
Cyberbullying is behavior that includes the repeated and intentional posting of offensive photos or information about another individual on social media or other websites. Cyberbullying can also mean spreading lies or rumors publicly through live-streaming apps, group texts, and social media, as well as sending threatening or hurtful texts.
Acts of cyberbullying are intended to make the recipient or victim feel anxious, angry, depressed, embarrassed, scared, sad, or even suicidal. And the potential to send, share, and spread these images, videos, and text without ever physically facing the other person just makes cyberbullying even easier to perpetrate.
As described by Dr. Adam Pletter, clinical psychologist and founder of iparent101.com, this form of "cyberharassment is both public and permanent" which amplifies the upset. Dr. Pletter adds that cyberbullying also leaves a digital tattoo (a more fitting term than digital footprint), resulting in years of distress and often direct mental health implications.
In this guide, we'll look at some of the current statistics on cyberbullying, examining both its prevalence and effects. We'll also explore how AI can help prevent cyberbullying and how you can get involved by joining the annual Stop Cyberbullying Day campaign.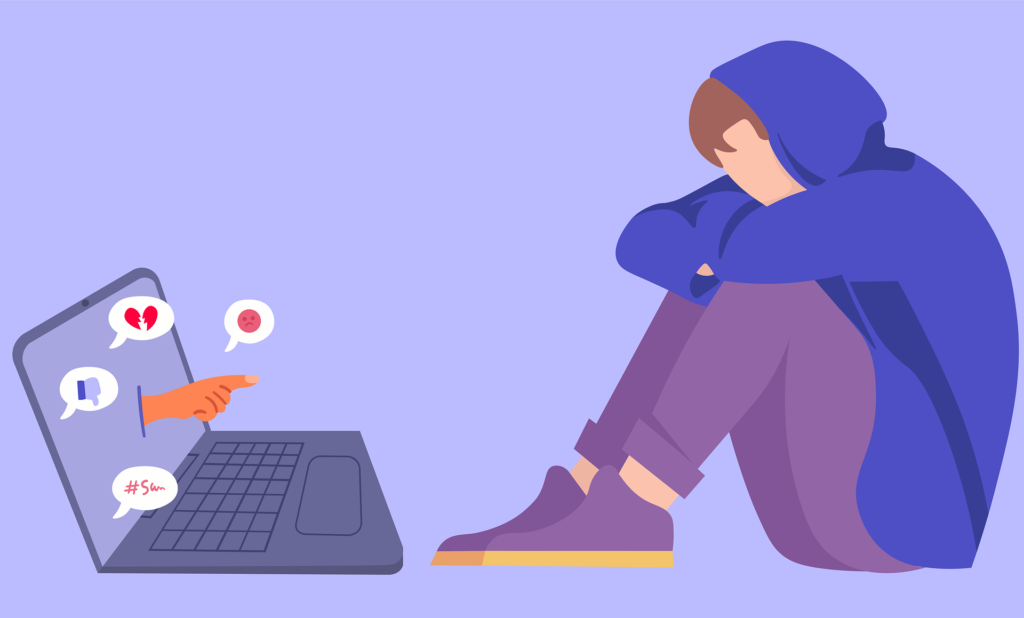 Cyberbullying Perpetrators and Victims
69% of individuals

report having behaved abusively towards others online, but only 15% acknowledge being cyberbullies, which suggests a lack of awareness of what cyberbullying actually is. 
According to Dr. Pletter, this lack of self-awareness is often linked with feeling overwhelmed by an emotion such as power/excitement, which interferes with empathic reasoning and self-perception. It's especially difficult for children and adolescents, who have immature brain development, to think through their emotions and see their role in a cyberbullying scenario. 
This lack of awareness is common when power is experienced in the moment online and social cues through digital communication are limited (for example, the absence of an upset facial expression). The typical feedback loop of "What I just said/did clearly upset this person" is compromised and often absent in text-based communications. As a result, the cyberbully goes on with their day with limited awareness of the negative impact that they had on the victim.   
"People often end up resorting to cyberbullying as a result of extreme trauma or stress in their own lives. They may struggle with responding well to trauma and cyberbullying is one of the more negative of the coping mechanisms," explains Ali Goldstein, an LMFT who specializes in working with teenagers struggling with trauma, transitions, depression, anxiety, substance abuse, and anger management. 
"This gets in the way of them being able to develop insight and understanding into what they are doing to other people. The added piece of being detached from their target also emboldens the cyberbully, and there is no immediate seen or experienced interpersonal consequence when they launch their attack."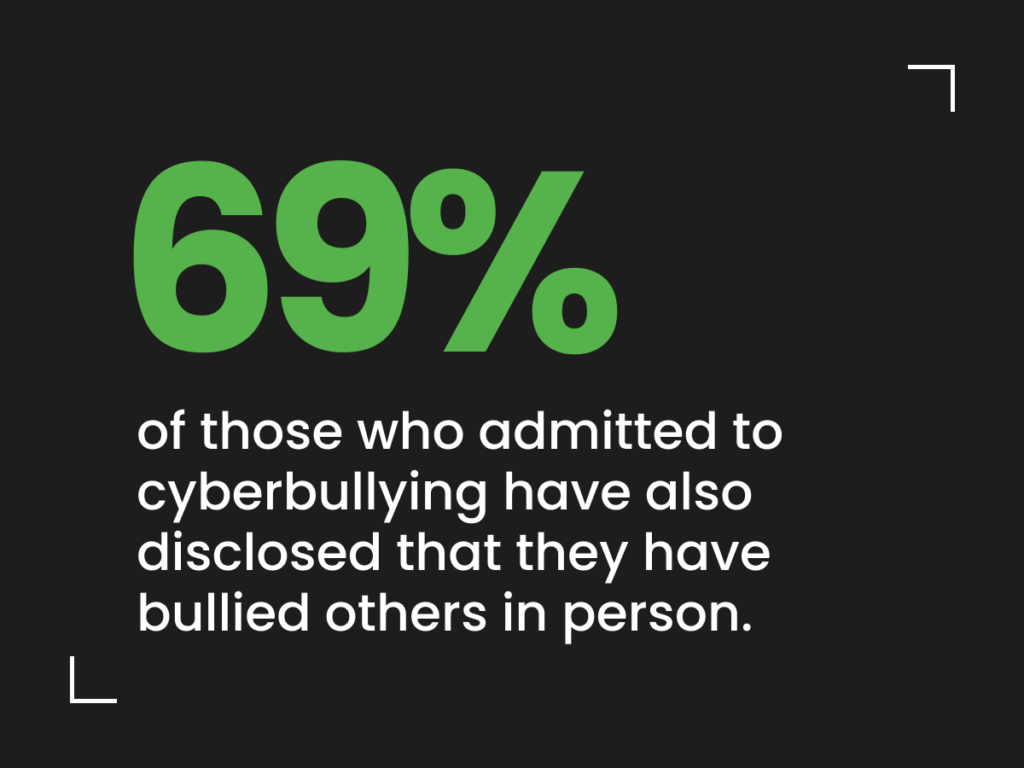 How common is cyberbullying?
Cyberbullying is more common than most people realize, and as we spend more of our lives on digital platforms, it's only going to become more prevalent. As children grow older and have more access to digital devices and social media, their exposure to cyberbullying and other online abuse becomes more prevalent. Data shows:
While the primary reasons why individuals are cyberbullied vary, appearance accounts for 61% of the reasons, with academic achievement/intelligence accounting for 25%, race accounting for 17%, and both sexuality and financial status accounting for 15%. [BroadbandSearch Blog].
Where does cyberbullying happen?
Cyberbullying can happen on any platform, including email and text messaging, but it more commonly occurs on social media and instant messaging apps, as well as online gaming. Data shows:
42% of individuals using Instagram and 37% of those on Facebook are likely to be cyberbullied. Snapchat users have a 31% chance of experiencing cyberbullying and a 12% chance on WhatsApp. [

BroadbandSearch Blog

] 

When it comes to children, the numbers are even higher, as 79% of kids on YouTube and 69% of kids using Snapchat are likely to be cyberbullied. Children on TikTok have a 64% chance of experiencing cyberbullying and a 49% chance on Facebook. [

Security.org

]

57% of adolescents and teens have been cyberbullied in an online game. [

Ditch the Label]

How does cyberbullying affect people?
"When someone is bullied they undergo a great deal of stress. One of the side effects of that kind of stress can be physical or somatic symptoms," Ali Goldstein explains. "These present in a number of different ways like stomach aches, headaches, disturbed sleep, muscle pain, weight loss, and other physical ailments. This is a biological response to your body experiencing the stress it's under. When the body believes that it's in danger, it releases hormones that inspire the body to either fight, flee, or freeze in order to address the impending stressor. This kind of response can cause long-term distress for the victim of the cyberbullying and is often confusing as they rarely know why they are feeling this way."
Parents should also look for changes in their child's behavior, adds Dr. Pletter. They may be subtle changes – perhaps your child is being more secretive or hiding things. Maybe they seem a little bit down. "Often, if you're a victim of cyberbullying, you don't want to talk about it. You want to pretend that it's not happening even though it's bothering you inside," he says. Research shows that:
41% of children

report that social anxiety is a result of cyberbullying.

Among teens who have been victims of cyberbullying, more than half have felt angry, approximately a third felt hurt, and nearly 15% felt scared afterward. [

National Crime Prevention Council (2021). Stop Cyberbullying Before it Starts

]

37% of kids

associate depression with online bullying. 

19% of students who have been cyberbullied say that the experience negatively affected their feelings about themselves. [

National Center for Education Statistics

]

25% of children feel that engaging in self-harm is a result of cyberbullying and 26% feel that cyberbullying causes suicidal thoughts. [

BroadbandSearch Blog

].

Almost one-third of tweens said online bullying had an effect on their relationships. [

Cyberbullying Research Center (2021). Tween Cyberbullying in 2020

]

25% of teens

have experienced a cyberbullying incident that culminated in a face-to-face altercation. 

64% of students who have been cyberbullied say it affects their ability to learn and feel safe at school. [

Cyberbullying Research Center]

20% of kids feel that online bullying leads to skipping class. [

Ditch the Label

] 

13% of teens

said that cyberbullying made them concerned about attending school the day after an incident.

13% of tweens reported that their physical health was impacted by cyberbullying. [

Cyberbullying Research Center(2021). Tween Cyberbullying in 2020

]

Students who are cyberbullied are twice as likely to experience stomach aches, headaches, and other ailments as other students. [Gini and Pozzoli, 2013]
According to WebPurify's co-founder, Josh Buxbaum, it's very difficult to accurately identify just how many children and teens are victims of cyberbullying, since many of them hide their struggle. In fact, only 6% of teens said that they have reported another student for hurting their feelings via a chat or instant message.
"Some platforms aren't properly monitoring for bullying and child endangerment," says Josh. "Statistics show parents are not paying enough attention either, and they need to stay vigilant."
Based on these statistics, it's also clear that cyberbullying is a societal issue that is widespread and on the rise. It's easy to see the negative effects of Instagram, for instance. The good news is that approximately two-thirds of tweens reported that they have attempted to help victims of cyberbullying, with 30% saying that they have tried to help on several occasions [Cyberbullying Research Center]. We can all take a cue from the next generation by making sure that we understand what cyberbullying is, where and why it occurs, how to help victims of cyberbullying, and how to prevent it in the first place.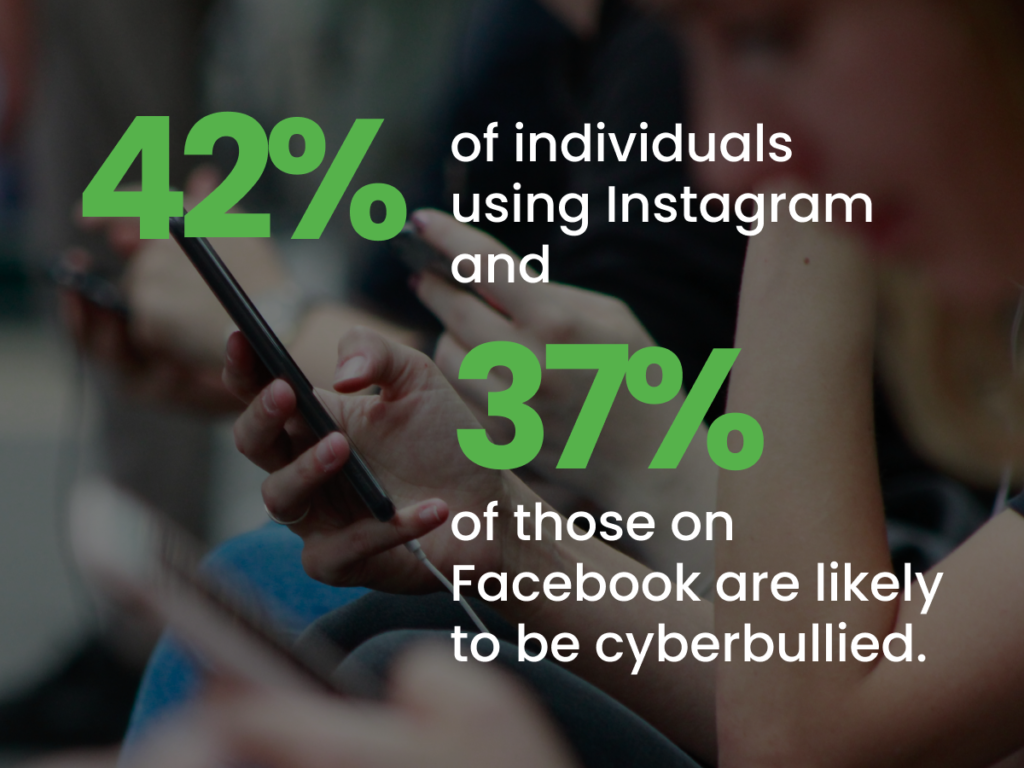 What is an appropriate way to minimize cyberbullying?
"When I talk with kids who were victims of cyber harassment, I try to help them regain power by understanding their role in the situation. Now I want to be clear: this is not about blaming the victim. Ever. Rather, it's looking at their part in the often painful interaction, in order to empower them to change their approach and be targeted less often (or at all) by the would-be harasser.
Dr. Pletter encourages kids to think about these incidents like a YouTube video and, in their mind, rewind it back to just before the harassment began. What happened in those moments? Is there anything notable that encouraged the target to land on them? Once they have this increased self-awareness, it's then about empowering that person to be more aware of their role in what's happening around them the next time something happens. From this awareness comes the confidence to speak up, be assertive, push back or even just leave the digital platform where it's happening.
Parents can also play a vital role in minimizing cyberbullying, Dr. Pletter adds. With younger children, parents can often anticipate with their children the reality of what they're going to encounter online. A parent can prepare their child by helping them be more aware of what they're putting out there that might attract these negative interactions. Similarly, parents can force the child/parent dialogue through monitoring and encouraging self-regulation practice by discussing what game and platform (e.g., discord) the child is planning to join and whenever possible with whom they are planning to interact/play. Practicing this deliberate approach helps the child feel prepared and therefore more confident to deal with potential harassment. Akin to popular front door security cameras, humans who know they are being monitored tend to behavior differently. This direct shift in behavior while being monitored is true for both potential victims and their bullies.
To learn more about how parents can keep their kids safe online, check out our guide on how parents can help prevent cyberbullying. Also consider making a family Internet contract that outlines the different expectations for both you and your kids, and defining how you can work with your kids to handle any predictable problems that arise.
Online platforms also have a responsibility to the care and safety of their users and can greatly minimize the instances of cyberbullying by investing in effective content moderation. WebPurify has developed systems to help prevent cyberbullying in its many different forms, from its human team providing content moderation in virtual reality (where they are actively playing in multiplayer games to observe behavior) to weeding out catfishing scammers to AI solutions that can detect abusive language.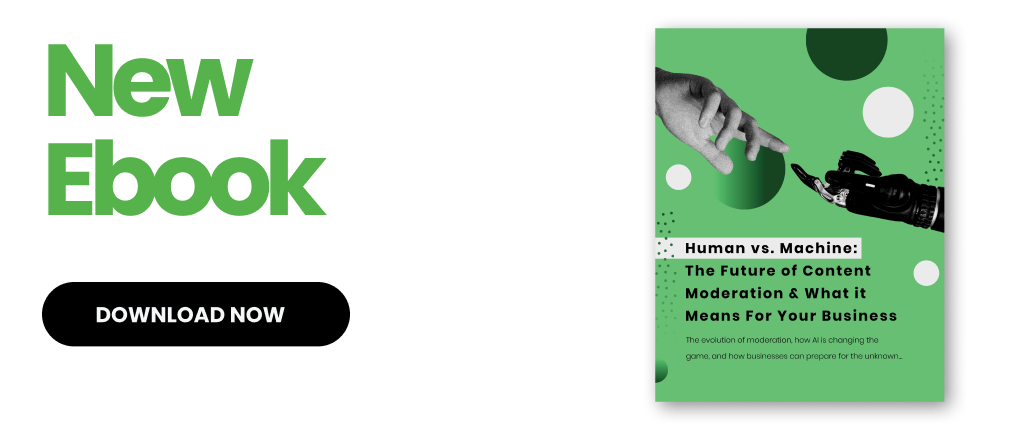 How to avoid cyberbullying
Let's face it: as long as there are online platforms, there will be people who resort to cyberbullying. But there are some steps that both potential victims and platform owners can take to stop this harassment from happening. For individuals:
Protect your privacy. Don't post or share anything that is too personal or could be embarrassing to you if it was seen by someone with ill intentions.
Check your privacy settings. All social media platforms will have controls that dictate who can see your posts. Limiting who sees your content will minimize your risk of being bullied.
Be careful who you friend. On social media, particularly for young people, there is a certain status around high friend/follower counts. A good rule of thumb is, if you don't know a person, don't accept their friend request.
Dr. Pletter adds that potential victims, particularly children, should recognize that the only power they have in these situations is their role. If someone is harassing you, firstly, report it. But then your most effective way of dealing with a bully is to be a "boring" target and in some cases boring means leaving the situation temporarily.
"We can't make people stop being jerks," he says. "All we can control is our part in the interaction. The only power I have is my role. So I'm going to tell him to stop. I'm going to try to be as non-emotional as I can. I want to be boring."
For platform owners, effective content moderation is the best way to prevent your visitors from harassing other users.
Combating Cyberbullying with AI
The volume of content being shared online and on social media each day continues to increase and cyberbullies continue to find new ways to bypass technology that social media platforms and social networks put in place to prevent online bullying.
Although it's not always easy to detect this harmful content, it is still possible to catch it. WebPurify's content moderation experts work behind the scenes 24/7 to filter profanity, the spread of destructive content, and instances of cyberbullying from children's sites, online dating platforms, video game chats, and popular social media apps.
To combat different forms of cyberbullying, WebPurify uses a hybrid approach. We combine AI and live moderation to identify user-generated images and video that are high-risk, mitigating the spread of abusive content and decreasing cyberbullying incidents. By thinking like a bully, our live user-generated content moderators are trained to look for nuances, and analyze images and text that are sarcastic or suspicious in tone to determine if cyberbullying is at play. 
Furthermore, our proprietary AI-based offensive intent Smart Screen technology can be paired with profanity filtering for precise moderation based on phraseology and context in 7 categories, including flagging personal attacks, bullying, bigotry, and mental health issues.
Stop Cyberbullying Day
Cyberbullying is a serious problem that can have a negative impact on anyone. In recognition of Stop Cyberbullying Day, it's important that we all work together to put an end to online bullying for good.
Held every third Friday in June, Stop Cyberbullying Day is an annual event that brings together academics, brands, educators, governments, internet users, media outlets, nonprofits, and public figures worldwide to promote and celebrate an Internet that is truly diverse and inclusive. You can find information on how to get involved and join others in taking on cyberbullying at the Stop Cyberbullying Day website.