UGC Moderation: 22 Tips for Choosing the Best Partner
September 10, 2019 | Image Moderation, Video Moderation, UGC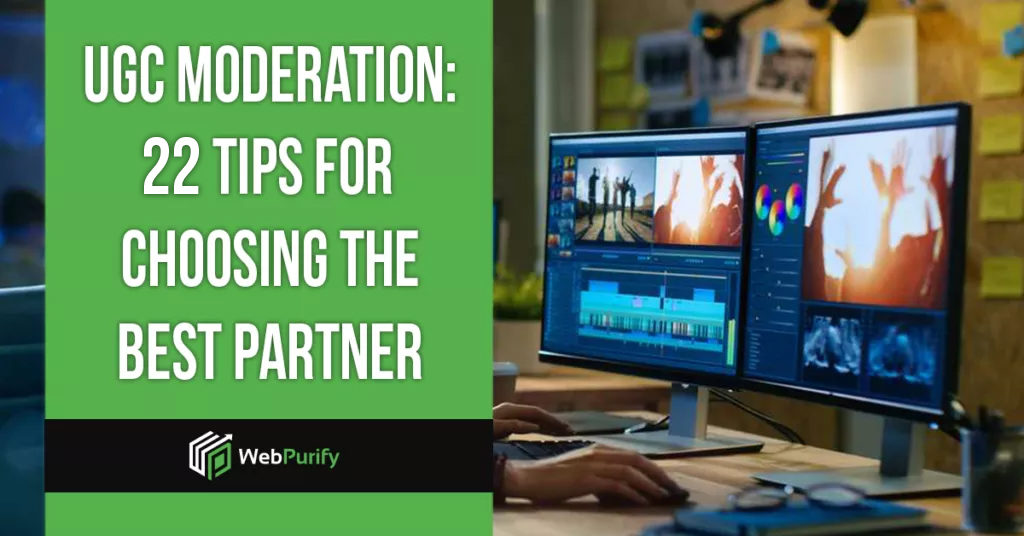 When it comes to doing business online, there's hardly anything more important than your brand image. It creates recognition and fosters trust. But most importantly, it gives you equity and credibility.
That's why so many businesses are careful about who they choose to moderate their user-generated content or UGC. These firms can either help build your brand or damage it beyond repair. Let's take a moment to discuss a few tips for choosing a reliable company to moderate your UGC.
1. How to Pick a Winning User-Generated Content Moderation Firm (hint: they need a long history)
You'll rarely find a startup company that's known for its content moderation. Why is this? Well, it takes reputable companies years to perfect their training and technical processes. They need time to figure out the needs of each industry. So be on the lookout for a business that's been around for some time. The best part of working with seasoned professionals is that they offer a sense of stability and permanency.
2. How Specialization Can Save You Time, Money, & Headaches
A lot of firms advertise services for data entry and customer service in addition to content review. At first glance, it may seem ideal to work with a company that offers "the works." The problem is, it's improbable that they'll be able to do all of these things efficiently. Content review takes a significant amount of time and concentration, so it's a good idea to work with a company that focuses solely on UGC and nothing more.
3. Why Consideration of Mental Health is Important
User-generated content moderation is far from easy. Not only must these individuals work tirelessly to ensure that your brand is always seen in the best light, but they are exposed to content that can be somewhat disturbing in the process. The best agencies prioritize their team's mental health as well as their overall working conditions. Choose a company that offers a comprehensive mental health program to those who will be moderating your platform's content.
4. How Scalable Solutions Can Benefit You in the Long Run
If you're interested in scaling your business over time, then you need to find a company that can accommodate growth. Specifically, you need to find a firm that can scale quickly. The size of their teams should always suit your needs.
5. Find Companies that are Open to Giving a Facility Tour
One important factor in ensuring the success of your brand is making sure that your image moderation team is happy with their work environment, so make sure to tour the facilities. Even if you're not able to show up in person, ask for pictures or videos of the area.
6. Why Speed Needs to be a Consideration
User-generated content is often time-sensitive. Employing it to its highest potential means getting on it fast before the moment passes. Having a user-generated content moderation partner that understands this is crucial. The last thing you want is your UGC seeming like it is behind the curve because your moderators took too long to do their job.
7. How You Will Benefit from Live Moderation
Of course, AI is essential to the moderation process; this is especially the case when it comes to a high-volume application. However, in many instances, human moderators do a better job at detecting context and criteria that are complex. So search for a company that offers the human touch.
8. How to Implement AI Moderation with your Specific Niche
While your human user-generated content moderation team can process complex material, AI solutions are best for real-time results. They can often reject specific types of images before they even reach your application; this helps to cut down on moderation time and expense. So make sure that your partner's solutions cover your specific categories and use cases.
9. A Hybrid Approach Can Take You Further
If you want to ensure that your moderation is effective, then it's a good idea to work with a company that uses a hybrid method. In other words, they combine AI and human moderation services. Not only do they work to get the best out of each, but this approach can reduce costs and improve quality.
10. How to Get More Results from your Money
It's a good idea to work with a company that offers several options when it comes to pricing; this is especially the case if your platform is relatively small. In some cases, their plan may even need to be customized to your specific needs. Search for a company with a wide range of pricing options.
11. Find a Company that Employs Checks & Balances
No matter how efficient a team may be, it's crucial that the company you work with features a quality assurance system. Ideally, there should be a dedicated quality control team that regularly inspects the lve team's work. This review process ensures that your moderation is always on point.
12. The "New Project Training" Difference
Even the most seasoned moderation firms understand that no two companies or projects are the same. And this means that the moderation team needs specialized training for each new project. Find out what the company plans to do to ensure that their team understands your specific needs.
13. How Real-time Solutions Can Change the Game
Any errors must be addressed as quickly as possible; this is why the most reputable companies offer a feedback loop API. It ensures that your in house team will be able to report problems in real-time. And this ultimately results in faster resolutions.
14. How a Moderation Trial can Point You in the Right Direction
If you want to get a better idea of how the moderation team will perform, then ask for a trial. Not only will you get an idea of how efficiently the agency works, but the team will get an up-close and personal view of what you require of them. It's beneficial for all involved.
15. How Companies that Outsource can get You in Trouble
A lot of user-generated content moderation firms choose to crowdsource their team; this is especially the case if they're trying to scale with the client's growing needs. However, this business model can be risky, leaving decision making in the hands of amateurs or people that don't understand your individual goals. So try to stick with companies that have their own highly trained internal team review your content.
16. Get Peace of Mind with a Company that Operates from a Secure Location
Some firms employ moderators who work remotely. Unfortunately, this means that your data may not be secure. At any point, it can be saved and shared. Choose a company that requires moderation to be performed by on-site staff.
17. How Storing (or not storing) Data Should Impact Your Choice
Another way to ensure that your data remains secure is to avoid working with companies that store your data. Be sure to ask a potential moderation partner how they handle your data and ensure that none of it is stored.
18. Why Being GDPR Compliant Matters
With most brands and apps dealing with potential traffic from around the world, GDPR compliance is not an option. Whoever you work with must comply with the General Data Protection Regulation. Ask to see their Data Processing Agreement (DPA).
19. How to Sleep Easy with High-Security Standards
If you'd like to keep your information safe, then find a company that is thorough when it comes to security. The best companies administer background checks to all individuals who handle your data. Be sure to ask for their Disaster Response and Information Systems Security policies.
20. Remember – Moderation Vendors Should Have an Emergency Plan
There's always a chance that the vendor could experience technical problems. For example, the power or internet may go out. In instances like this, they need to have a backup plan. Ideally, the company should be equipped with several carriers so that they can switch between them if necessary.
21. How 24/7 User-Generated Content Moderation Can Get You Where You Need to Go
No matter the day or time, user-generated content is continually being created. And these users typically want to see their content immediately; this means that the company you work with should operate 24/7.
22. Why You'll Thank Yourself for Picking a Vendor that has 24/7 Support
Not only should the agency you work with always be in operation, but they should always be available for support. You need to be able to reach someone as quickly as possible when an issue arises; this is especially the case if you're dealing with something that could hurt your reputation.
Takeaway
If you're interested in professional user-generated content moderation, then there are a lot of things that you should consider before choosing a partner. You should think about their depth of experience, their expertise, the quality of their work, how they handle your sensitive data, as well as their level of customer support.
Moderating user-generated content can be a major hassle if you are exclusively trying to address it internally. No matter the size of your business, the truth is – your time will be better spent doing what you do best instead of combing through millions of pieces of  content every day. Also, moderating on your own without the aid of a partner providing live teams and AI, can increase your risk of errors, which can be damaging to your brand.
We get it – user-generated content can do wonders for a business. It has been successfully employed by businesses of every kind to boost sales, generate more leads, and grow brand visibility. Those are the kind of benefits that any business owner would be crazy to overlook.
But considering the risks, the amount of time involved, and the learning curve, is it really worth it?
If you're going to try and go at it alone, the answer would be "no."
But on the other hand – if you have an experienced, skilled partner by your side, you don't have to worry about user-generated content moderation. You can let the experts handle it while you and your business reap the benefits that come from UGC done right.
Using the tips in this article & this quick quiz, you'll be partnering up with the perfect user-generated content moderation partner in no time.