The Risk of Live Video on Your Website
July 23, 2017 | Image Moderation, Video Moderation, UGC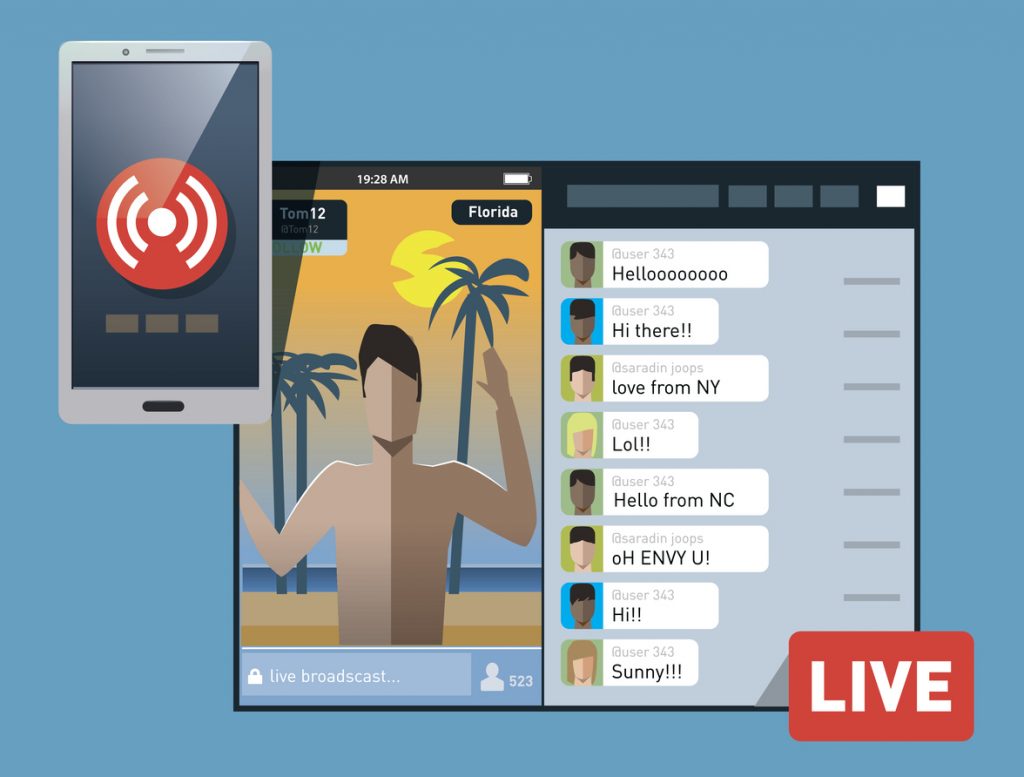 A few months ago, a worst-case scenario highlighting the risk of live video and user-generated content (UGC) happened. And it happened on Facebook Live. Facebook was unable to pull the broadcast of a murder down in real time and didn't remove this terrible video for hours afterwards. The takeaway for us all: Real-time video involves risk to your brand, your consumers and, if relevant, your advertisers, and that risk needs to be managed as best as possible with UGC content moderation.
The following are different building blocks and tools to implement on your website to make instant videos work as best as possible. If you're not sure how to approach live broadcasting moderation, WebPurify can provide guidance for managing the risks of live video and UGC through our human and automated hybrid moderation solutions.
How to Minimize the Risk of Live Broadcasting
Create systems to make live broadcast moderation flow better, efficient and scalable. There are a few ways to approach monitoring live video broadcasts:
1.The Human Oversight Funnel
In this scenario, there are a few lines of defense:
• Allow users to flag inappropriate content. If something is brought to your attention early, you have the ability to take it down before more and more…and more…people see it. Remember: this is a live broadcast, so if it is offensive now, chances are it is not going to get better as the video continues.
• Escalate it to live moderators. Once a video is flagged several times, there should be an alert that calls the attention of live human user generated content moderators who then watch the live video, and can quickly shut it down.
• Alert the authorities. If a live video is broadcasting illegal content, it should be reported to the appropriate authorities to take further action.
2. The Automated Image Moderation
This approach combines technology and human power to address this problem. Using WebPurify's Automated Intelligent Moderation service (AIM) is a way to moderate millions of videos for the cost of fractions of a penny per frame, and only escalate a small portion of those to highly trained human moderators. In this case, our AIM solution automatically takes frames from videos at optional intervals and scans them. Currently, AIM checks for nudity, but we will soon be expanding its scope to include terrorism, graphic violence and other categories. Find out more about our human-AIM hybrid here.
3. Additional Moderation Techniques
• Reputation scoring. Is the user who is submitting a live video new or has he or she been around for ages? You may be less concerned with the user who has been posting for a long time without any flags vs. the user who just joined the site. At the very least, every new user's first video needs to be scrutinized closely by a live team. That said, an old user who has been offensive in the past and has a low reputation score requires more scrutiny upon posting their videos as well. Reputation scoring is an effective tool to determine which newly posted UGC videos should be escalated for live team review.
• Community scoring. The videos getting the most eyeballs from your online community also deserve extra attention. Anything that's spiking is important for content moderators to also see because, while it could be perfectly innocent, it could also land on the inappropriate end of the spectrum. You're responsible for what everyone's looking at on your site, so make sure to recognize and review what's trending.
• Profanity filter. WebPurify's Profanity Filter service comes in handy for moderating chat within a live video. There's always a lot of talk on the side of a video, so this is another tool to flag offensive language which may (or may not) be related to an offensive video.
When it comes to real-time video, you don't want to take any chances with the promotion of incredibly sensitive or illegal content, so our recommendation is to do it all. Or, don't offer live broadcasting on your site! That's the only way to truly avoid the risk of live videos.
Learn more about WebPurify's profanity, image and video moderation services.