Moderating Digital Out-of-Home Advertising UGC
February 27, 2017 | Image Moderation, Profanity Filter, Video Moderation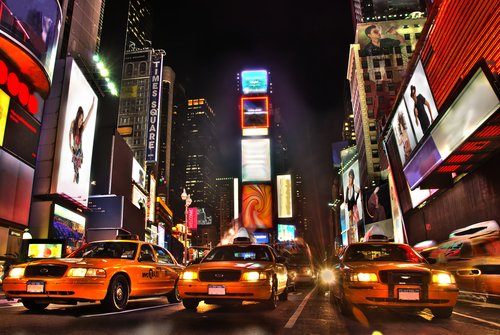 Digital out-of-home advertising, also known as digital place-based media, is the world's second fastest-growing ad medium, according to Screen Media Daily. If you're not already familiar with it, this form of advertising utilizes strategically placed digital signage displays, including digital billboards, video walls and interactive displays, to reach consumers in a variety of venues—everything from airports, office-building lobbies, shopping malls, sports arenas and highways to city streets. It's becoming an even more popular place to feature user-generated content (UGC), which requires stringent moderation to ensure the messaging stays somewhat controlled and on brand. Find out more about why these digital place-based media are rocking the ad world, and the risks and solutions that come with this kind of UGC.
Digital out-of-home advertising is taking the U.S. by storm.
According to PQ Media, a leading provider of market intelligence, the United States is the world's largest digital out-of-home advertising market by revenues. This country's large consumer base is drawn to this stimulating and flexible form of outdoor advertising that allows brands to change their messaging throughout the day and engage with their audiences in a new way. And with the popularity of UGC, companies are using tweets, photos and videos submitted by consumers on their digital signage to generate interest and engagement in a relatively low-budget way.
One example: Macy's created a Macy's Love campaign where those who posted pictures of items bought at Macy's on Instagram and Twitter with the tag #MacysLove had a chance to be featured on Macy's digital billboards. Macy's then sent mementos to the featured "photographers" to share with followers and friends. But what else was in it for the customers? Nothing, really. Never underestimate how much people love to see themselves up on a big screen!
There's an inherent risk with real-time digital advertising's UGC.
Anytime you work with UGC advertising content in real time (meaning, it's going up immediately instead of being carefully crafted by an advertising team), you run the risk of this highly visible ad medium broadcasting offensive content that a consumer might have posted as a joke. Or, a user could post content that simply doesn't align well with your brand—say, a tweet that includes a competitor's name.
Moderating UGC is key to making digital out-of-home advertising work seamlessly for your company or advertising client. Picture the (somewhat controversial) digital billboards at Wrigley Field in Chicago where the Cubs may choose to feature UGC, such as selfies at the stadium or fan tweets. The World Series winners wouldn't want any inappropriate photos or tweets flash up on the big screen in front of thousands of eyes, which is why the content requires moderation before it pops up there.
Select humans over machines for moderating digital out-of-home advertising.
The real estate is too valuable, and potentially harmful to your brand, to get it wrong. WebPurify has trained professional (humans) that moderate UGC content in real time for your digital out-of-home advertising campaigns. Humans are able to distinguish the nuances of language, photos and videos that could get lost on artificial intelligence. Additionally, WebPurify uses trained staff members—versus outsourced random contractors like many moderation companies do —to moderate your UGC content.
Ready to get started with your digital out-of-home advertising campaign? Let us know how we can help keep it clean and on message.