How to Encourage Users to Provide UGC for Your Company
March 10, 2023 | UGC
User Generated Content (UGC) has become one of the most used and effective types of content for many companies. UGC not only gives your social media team content they don't have to create themselves, but also helps build trust in your brand. Like influencer content, UGC increases trust because potential customers see a person using your product as opposed to a company advertisement. It can be used as a powerful tool, however unlike influencer-created content, the creation of UGC is not 100% controlled by your company. Obviously, in order to generate UGC, your users need to want to create content for you. How can you go about ensuring that?
Read on to learn about UGC, how it can help your company, what distinguishes UGC from influencer marketing, and some ways to encourage your users to create UCG for your brand.
What is User Generated Content?
User Generated Content is content created by your customers. While some may consider UGC to be limited to social media, its subject matter is often broader – and often related to your product. For example, it can consist of product reviews, podcast episodes, blog posts, and even customer interviews. These pieces of content can be leveraged and used across your channels in different ways. For instance, you can use customer reviews in emails and on social media. You can create blog posts containing interviews wherein your customers explain how they use your product and how it's helped them. UGC is versatile social proof that your products help your users.
Why use UGC?
Staying top-of-mind for current and potential customers is only possible with regular exposure. Social media in particular is most effective when your company is posting at least one time per day. With so many different social media channels that your marketing teams need to create content for (each with their own strategy), creating assets regularly is time-consuming and costly. When users can provide your company with content, this means less work for your marketing team.
Additionally, UGC can help your brand find new customers through consumer trust. Since UGC comes from your customers and not from your company, people will trust this content more. Seventy-nine percent of people say that UGC impacts their decisions when buying products.
Not only does UGC acquire new customers that trust your company, it also inspires brand loyalty in current customers. The more people can be involved with a company, the more loyal they will be.
UGC vs influencer content
UGC is similar to influencer content in that people trust it more because it came from a person as opposed to your company. Influencers are people with a large following on social media who work with brands to help promote their products. They can range from mega- to nano-influencers and help promote products in their respective niches. While UGC is made by customers either by their own volition or due to a promotion or competition your company is running, influencers are paid to create content for brands. While consumers trust influencers more than company-made content, because of the organic nature of UGC, they trust UGC even more.
Since UGC is created voluntarily by your users instead of paid influencers, it's important to make sure that you're using UGC legally. The best way to do this is to get explicit consent from the user whose content you'd like to use and to have them agree to Terms and Conditions accordingly.
How to encourage your users to provide UGC
UGC is part of any effective marketing strategy and can help you gain new users as well as incentivize current users to remain loyal to your company. However, users generally don't create UGC without having a reason to do so. Luckily, there are several ways to encourage your users to create content for your brand.
Run a social media competition
One of the most popular ways to generate UGC is to host a competition on social media. Encourage your users to post social media content with them using your product by offering a prize. Depending on your product, this prize doesn't have to be large, and the upside is you get content from everyone who wants to participate in the competition while only offering a prize to the winner(s). You can increase brand awareness and offer an even more enticing prize by partnering with other brands that have a similar user base like this contest Yeti did with Traeger Grills for National Grill Month.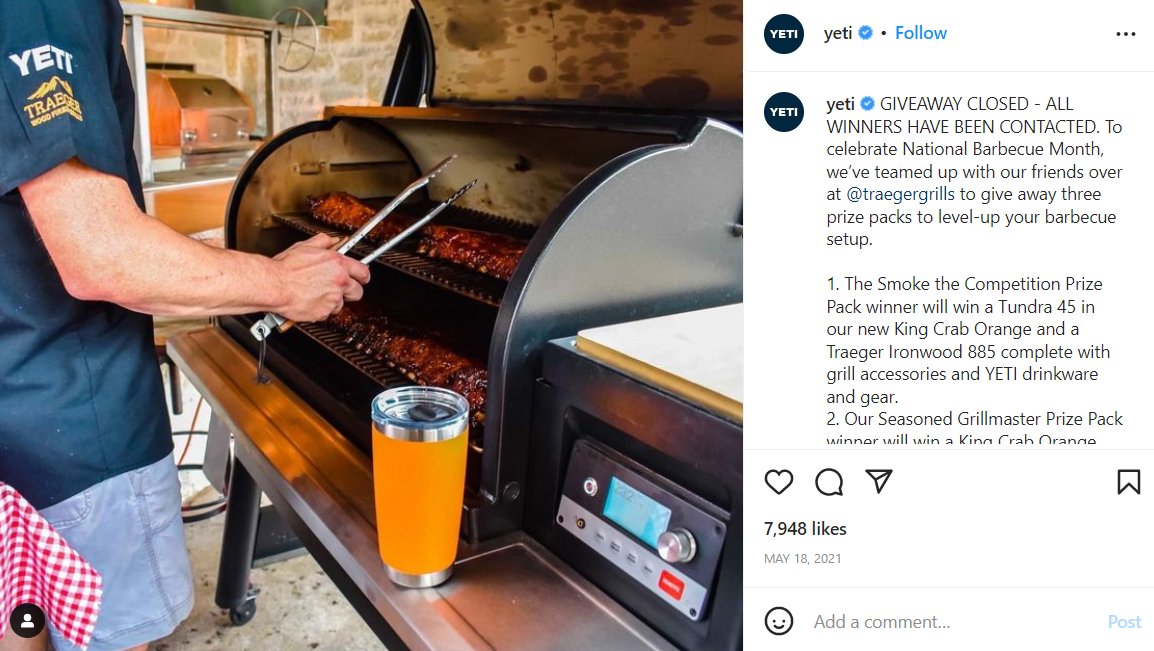 Offer discounts or merchandise
Many companies follow up with customers post-purchase to ask them to leave a review of their product. This ask is much more effective if the company offers the customer a discount in exchange for a review. Not only does this encourage them to leave a review that other potential customers will see, but it also incentivizes them to make another purchase and use their discount. Just be careful to make sure your customers understand that you are offering them a discount for an honest review, not paying for a positive review.
This discount approach also works well when hiring brand ambassadors for your company. Brand ambassadors are customers who want to regularly advocate for your brand on social media in exchange for discounts. This means a continuous amount of UGC being created for your brand in exchange for small discounts that encourage more sales. Many companies like lululemon employ successful ambassador programs.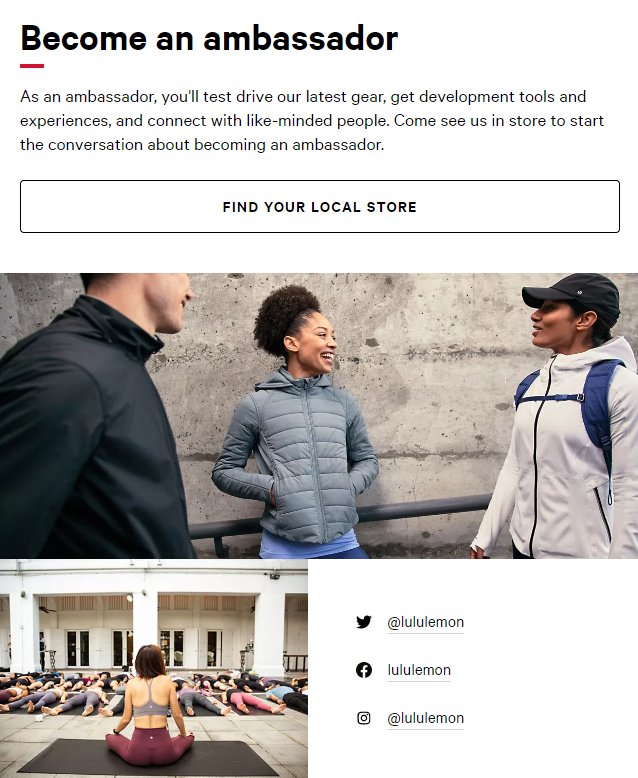 Get your customers involved with your brand
Customers want to be involved with the brands they're loyal to. Within your customer base, you are likely to have loyal customers that have used your brand for years and are excited enough to promote it. If there are customers who you recognize are consistently posting your product and interacting with your brand, make this group your "evangelical" customers. Reach out and see if they'd be open to you using their content on your page. Keep this group loyal by offering them perks or early access to new products.
Another way to get customers involved is to give them a say in your product. Several companies have hosted competitions or even just asked users for creative ideas. Whether this is using customer ideas in your next commercial (like Old Navy did) or asking your audience to design something for your product (like the sticker competition Oat Haus recently ran), giving people even a small stake in your branding will make them want to be more involved.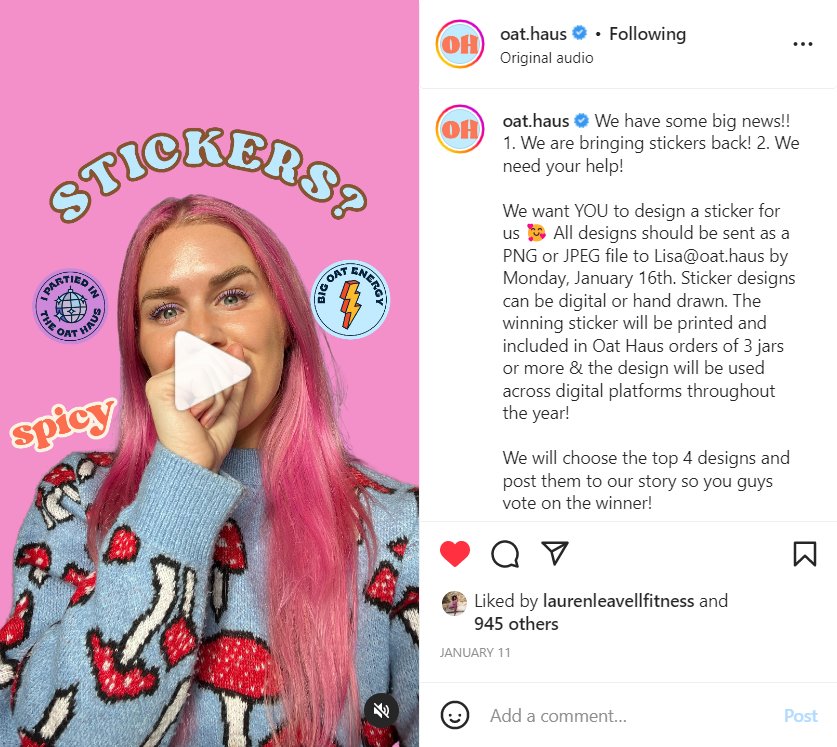 Support a cause
Many people, younger generations especially, are driven by altruism. They want to be loyal to companies that are supporting causes they care about. In 2023, most companies will showcase on their websites and across their socials and newsletters if they are participating in a cause like 1% For The Planet. Your company can leverage this by running a campaign where the proceeds go to an organization with a cause important to your customers. Ask your users for UGC that will have a positive impact on a cause that they care about like Under Armor's #RunToVote campaign.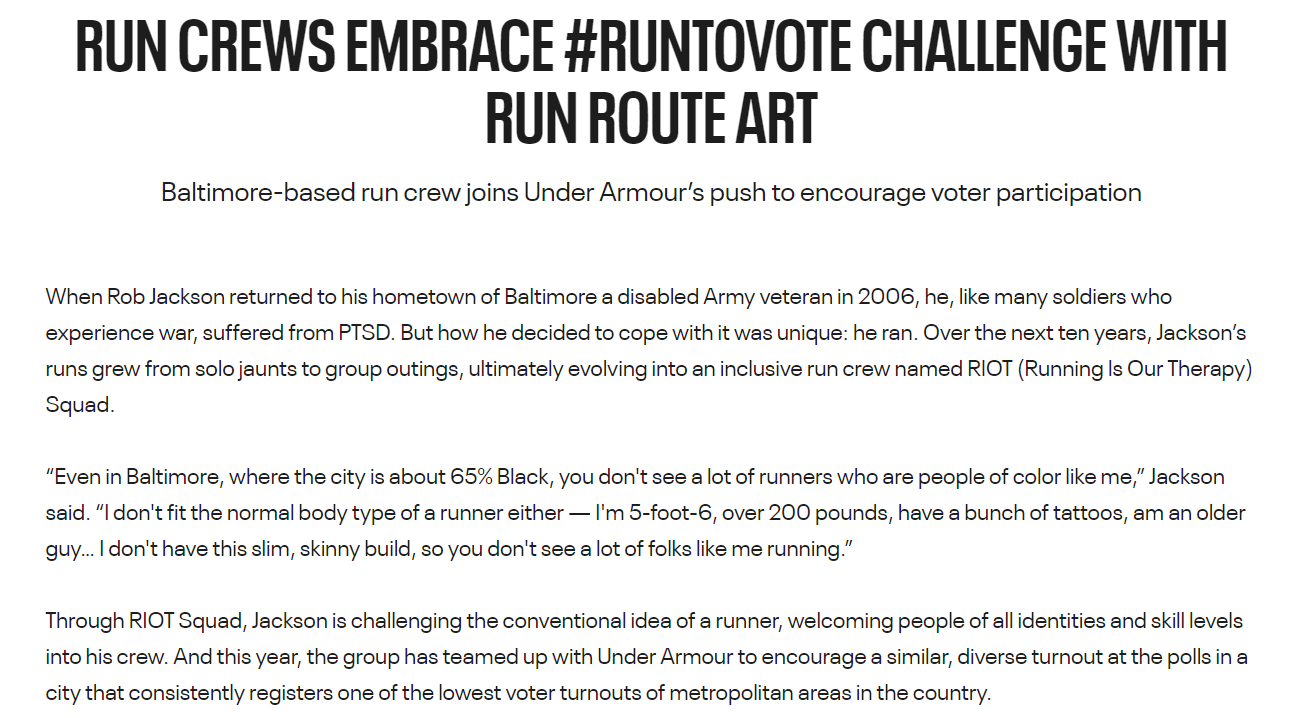 Use your employee advocates
UGC doesn't only have to come from your customers. "Employed media" is a fairly new term that means content that your employees post about your brand to their audience. Share interviews with your employees talking about what they love about working with your company, their life outside of work, or what their job entails like Unilever does on their "Behind the Job Title" social series.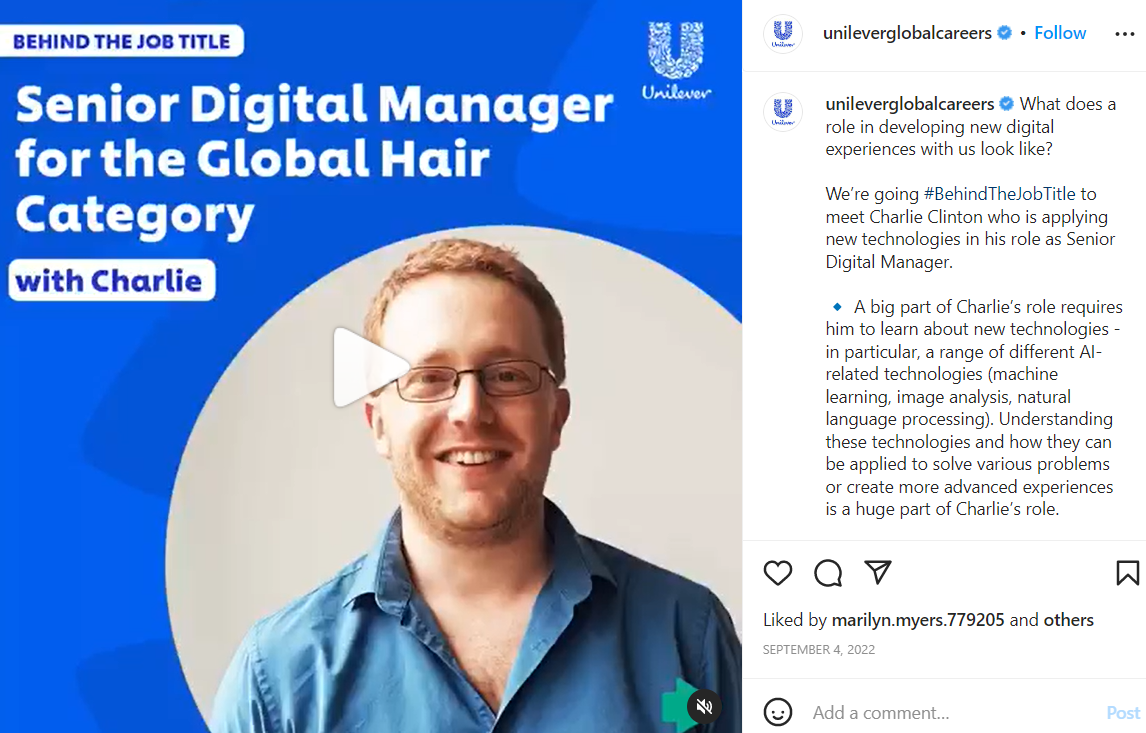 Tools to help with gathering and using UGC
If you are a large company with customers around the world, it can be challenging to gather and use UGC effectively. Here are some tools that can help.
While UGC can make your company more marketable, having UGC with inappropriate content can actually destroy brand trust, making what was meant to be a positive a negative. WebPurify prevents this, using a dual approach to moderating UGC by employing both AI and human moderators when content is uploaded onto your website or app. We can moderate text, images, and videos.
Social Native helps you gather UGC across many social media channels by tracking certain hashtags and mentions. Within Social Native, you can request and manage rights for UGC. You can also use Social Native to partner with relevant influencers.
With Yotpo, you can easily create subscription services and loyalty programs for your products. Yotpo enables you to create advanced segmentation like tier-based loyalty programs and custom reward offerings.
If you want to use a customer contest to gather UGC, Shortstack can help. Shortstack has fun and inventive ways to engage customers through contests, games, and quizzes.
Conclusion
UGC is a powerful tool that many companies employ to retain loyal customers and reach new customers. From social media posts to reviews on your website, UGC provides the social proof your brand needs to increase sales even more effectively than related, but less authentic, influencer content. Studies have shown time and time again that UGC is effective in creating brand trust. There are many ways to generate UGC, but you need to incentivize your user base to create it for you first. Use one or more of the above ideas to get your user base involved and encourage them to create content for your company.