Fighting for Authentic Feedback: The Rise of Fake Reviews in 2021
August 4, 2021 | UGC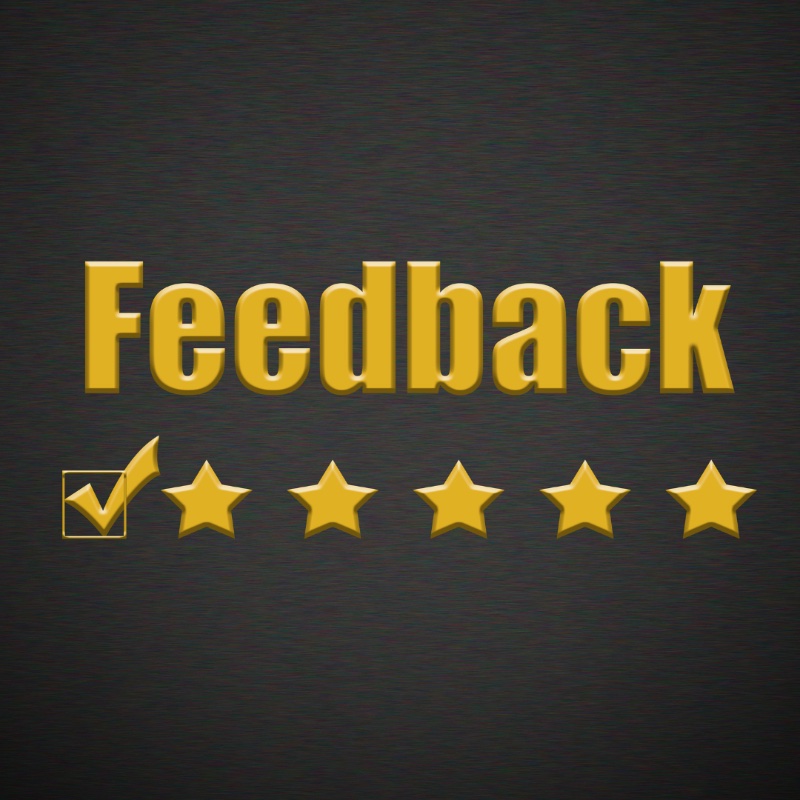 It's a growing problem for online shoppers – they make a purchase on an e-commerce site based on a product's rave reviews, only to find that the reviews were fake or inauthentic and the product disappointing. 
These same shoppers often choose not to purchase from quality brands because of products with poor reviews. In fact, 94% of consumers say that an online review has influenced their decision to avoid a business. Unbeknownst to these consumers, such negative reviews can actually be fakes that are posted by your brand's competitors. 
Today, we'll dive deeper into the types of inauthentic reviews that are affecting e-commerce sites both large and small, how to generate authentic reviews, and how to prevent fraudulent reviews using content moderation and other tools.
Types of Inauthentic Reviews
A fake online review is any review on any site – positive, negative, or otherwise – that does not represent a genuine service or product experience. Fake online reviews can also be any review other than one submitted as an actual consumer's unbiased, honest feedback.
The most common forms of fake or inauthentic reviews include:
Biased reviews:

  Reviews posted by friends and family of the seller. 

Paid reviews:

 Positive reviews from

third parties or customers in exchange for money.

Incentivized reviews:

Reviews attained in exchange for coupons, a discounted product, or free product. 

Bot reviews:

Fake reviews written by bots associated with

customer acquisition campaigns.

Click farm reviews:

Reviews generated by a location

that produces bulk online traffic. These reviews are generally used to

upvote negative reviews for the purpose of damaging a competing brand's image. 

Review bombing campaigns:

Negative reviews posted by one person with several accounts, or multiple individuals, with the intention of hurting the sales of a product by manipulating the product's rating.

Advertising disguised as reviews:

  Ads on platforms like TikTok, Instagram, and YouTube that are presented by certain companies as authentic reviews.

Positive "one-star" reviews:

  Reviews that include a one-star rating because the reviewer is commenting on an element of the transaction that doesn't apply to the product itself, such as delayed shipping.
Brand Trashing and Competitor Attacks
Unfortunately, it's all too easy for competitors to launch attacks under the radar by using bots, click farms, or humans to create inauthentic reviews. The most common form of competitor attacks is brand trashing, which can be offensive to your customers and harmful to your brand's image. There are even instances where it could become a public relations' issue with legal ramifications. 
Typically, brand trashing occurs because competing brands are intent on boosting their own ratings, and in turn increasing their visibility on an e-commerce marketplace. 
Your consumers, however, are the ones who ultimately pay the price for fake reviews. When someone buys a product based on inauthentic reviews, they may feel deceived, and understandably so. If their online shopping experience is tainted by further fake reviews, it may create a sense of brand-damaging distrust.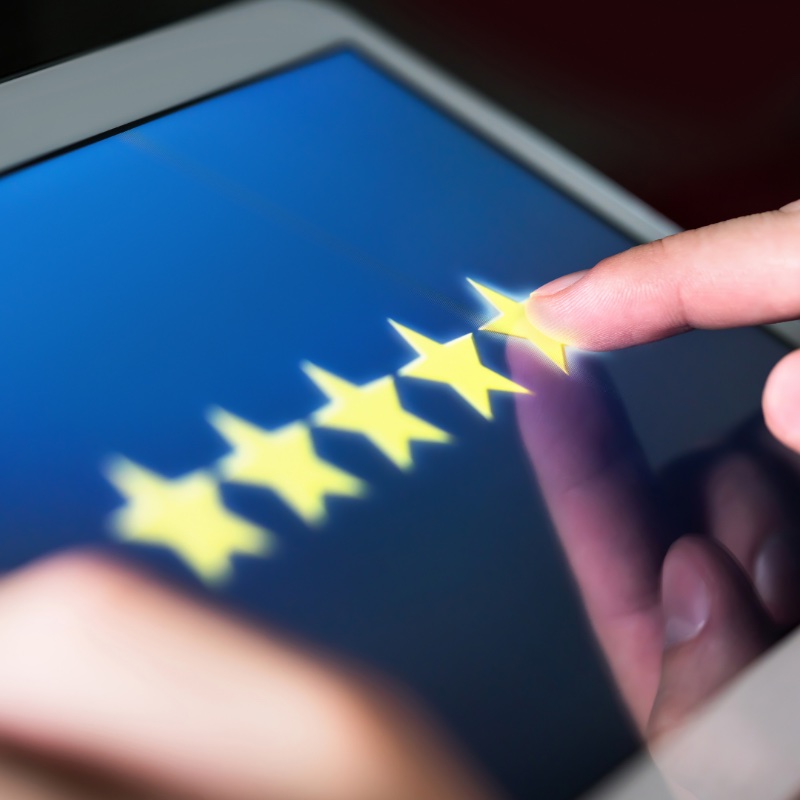 Garnering Authentic Reviews 
Your business can and should share honest reviews, and there are several approaches for obtaining them. Here are a few of the most tried and true ways to gather authentic reviews:
Send a personalized email to your customers with a single-question survey to identify those individuals that had a positive experience, and motivate them to post their feedback on your preferred review site. The ideal time to send a review request is within a week of the customer's receipt of your product, which should be sufficient time for them to formulate their opinion. Make it easy for your client or customer to provide a review with a survey form that is brief, clear, and accessible on laptops and mobile devices.

Ask for reviews on your company's website. This can be as simple as providing a link to a review form that will be submitted to you (or your content moderation partner) before being published. Keep it simple by adding the "Write a Review" link on each product's page, as Backcountry.com did here: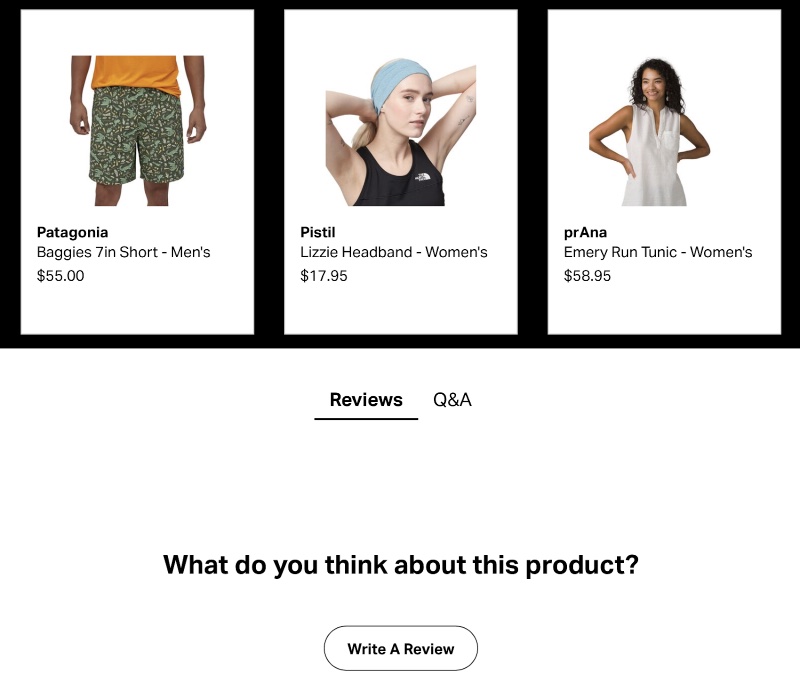 Since many social media users already share their opinion of products and services on their channels, you can harness the power of those posts by requesting reviews on Facebook, Instagram, and TikTok, to name a few. When your brand is tagged in social media posts or your hashtag is used by consumers, it creates a unique opportunity. Comment on such posts, or send a message asking for a formal review, and include a link to the same review form that you use on your website. 

Thank customers for their review, be it positive or negative. In the case of negative reviews, be proactive and apologize for the mistake, miscommunication, or unpleasant experience. 

Change your perspective! Rather than aim for five-star reviews across the board, make listening your brand's goal. Reviews are how your clients or customers provide feedback on what your organization is doing right, and what could be improved upon. Instead of throwing money at the fruitless pursuit of perfect reviews (which aren't believable anyway), implement changes that your audience will notice… Don't be surprised if they thank you in the form of brand loyalty. 
With such effective ways to obtain and share authentic, positive customer satisfaction reviews, resorting to fake reviews won't even be on your radar.
User-Generated Reviews 
Just because your organization's approach to seeking reviews is honest doesn't mean you're out of the woods. Once your efforts requesting feedback pay off and the reviews start rolling in, the important work of scanning each review for authenticity begins. 
Poor quality images, bot-produced reviews, and reviews containing competitors' names are just a few of the elements to watch out for. If any of these aspects are identified, you'll have to decide if it's still appropriate for the review to live on your platform. 
By utilizing moderation services that enable you to block list competitors' names in text submissions, you can mitigate the presence of competing brands in your product reviews. To ensure that competitor names are blocked when it's inappropriate and allowed when beneficial, a live moderation team can supplement a block list, handling the task of reviewing and rejecting content containing competitors' names, logos, and images.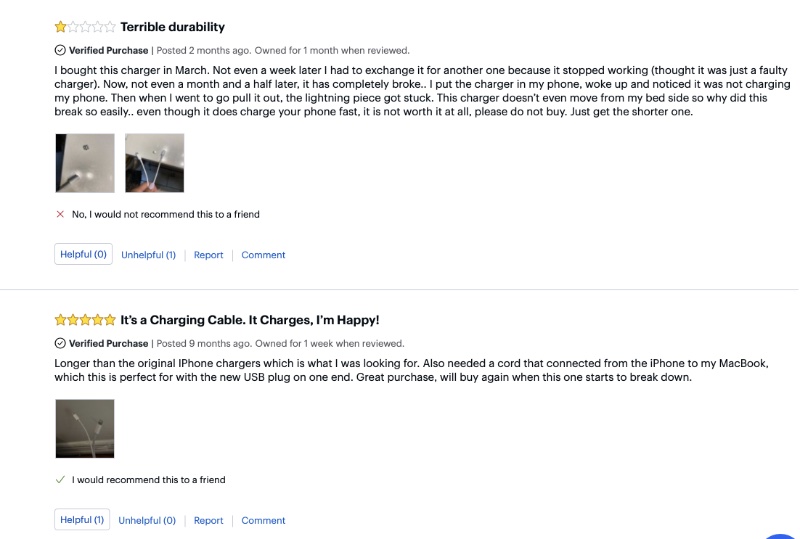 User-generated photos appearing in reviews also require moderation. The user-generated photo above is of the actual Apple – 2 m USB Type-C-to-Lightning Charging Cable in White listed on BestBuy.com and therefore acceptable. A photo of a charging cable in another color or a charger for an Android that Best Buy does not sell, however, has no place on this product's reviews. 
For your own online shop, work with a content moderation partner who can provide image moderation through advanced technologies, scanning all uploaded photos for quality and correct listings before allowing them to appear on your own e-commerce website. To make your users' shopping experience positive, using a live moderation team, combined with block list and AI photo moderation services, is the best recourse. And don't forget profanity filtering services for detecting offensive language.
Preventing Fake Reviews
The first rule of prevention is this: Don't ask for reviews that are biased and don't seek reviews from anyone who isn't a customer or client. 
92% of customers trust the reviews and recommendations shared by other consumers more than advertisements, but fake reviews are on the rise. This is a problem that could compromise the trust needed to convert shoppers to buyers – a fact not lost on the Federal Trade Commission (FTC). 
The FTC regulates how companies leverage customers and their endorsements in advertisements. So if your business were to be associated with any ads that contained quotes from incentivized reviews, the FTC could potentially slap on fines.

Verified Reviews on PunaNoni.com
Here's how your brand can take proactive measures now to prevent fake reviews:
Partner with a third party to collect reviews on your behalf. 

Use Verified Buyer reviews to confirm that a review has in no way been manipulated, but has actually come from an authentic purchase.

Set up a reliable content moderation process to prevent hostile comments, fake feedback, and reviews intentionally posted by competing brands. This is where a content moderation expert can make all the difference, helping navigate your specific moderation needs. At WebPurify, we use a

hybrid system of AI and live human moderation

to monitor user-generated reviews.
Conclusion
Even brands with the best intentions can be faced with fake reviews. To make your users' experience positive and your brand trustworthy, work with a content moderation partner that offers services for moderating reviews for the quality of photos or videos, correct listings, duplicate listings of the same item, competitors' logos or names, and other potentially damaging user-generated content.