Transforming trust & safety management with WebPurify's innovative consultancy service
August 7, 2023 | Marketing & Operations
As the vanguard of online safety for the past 17 years, WebPurify is continuing to lead the charge into a new era of digital responsibility with the launch of our trust and safety consultancy service. Already pioneers in moderating user-generated content (UGC), we're broadening our offerings to help businesses of all sizes create not just safer, but more trustworthy digital environments. With the introduction of our bespoke consultancy service, we're setting new benchmarks for integrity in today's dynamic digital landscape.
Our innovative new offering is led by Alexandra Popken, WebPurify's VP of Trust & Safety. Teams working with WebPurify will benefit from tapping directly into Alex's rich breadth of knowledge, gaining firsthand expertise from a seasoned figure in the field.
Our digital world is increasingly pivoting towards user-generated content, emphasizing the critical need for UGC platforms to have robust trust and safety measures in place. In the absence of taking necessary precautions, these platforms risk severe repercussions, including but not limited to: harm to users, erosion of customer trust, and damage to their brand reputation. The complexity of the current regulatory environment further exacerbates the urgency, and platforms that do not prioritize safety risk significant fines and sanctions.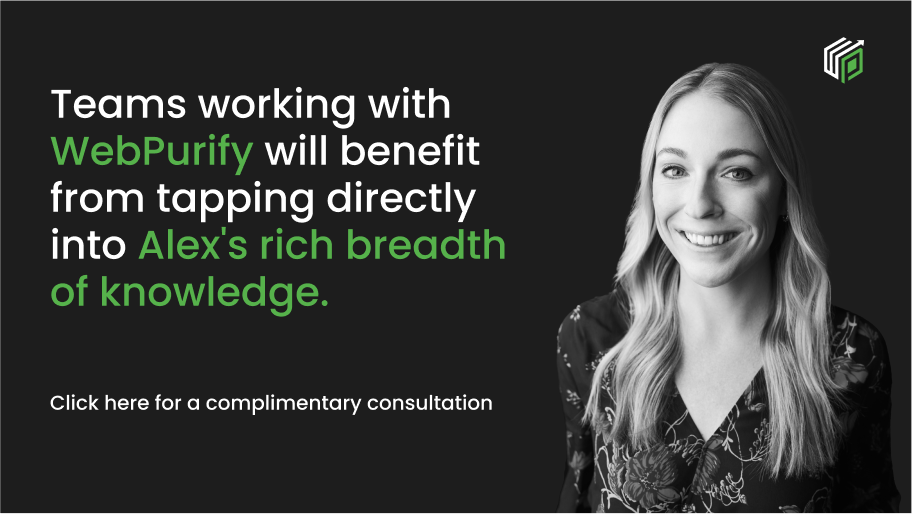 Companies hosting UGC face a number of challenges, from illegal content to hate speech, spam, and misinformation. The unique ecosystem of each platform creates diverse, often complex risks that necessitate individualized guidance for identification and mitigation. WebPurify's consultancy service steps in to steer companies through these treacherous waters.
"We tailor our service to wherever a client is in their trust and safety journey, recognizing that consulting is not a one-size-fits-all approach when done effectively," Alex says. "Platforms newer to hosting UGC might need help getting community guidelines and basic content moderation off the ground, whereas more mature platforms might be looking to uplevel their content moderation efforts, improve efficiency, and reduce costs."
Alex and the team at WebPurify stand ready to work with companies on an ongoing basis or on specific projects, depending on their requirements. WebPurify's deep operational expertise, coupled with a personalized approach, ensures every company can meet its trust and safety objectives effectively and efficiently.
"We have been in the content moderation industry for a long time and come to the table with a braintrust of best practices from having encountered numerous UGC risks over the years, across various industries," Alex says. "We're excited to leverage this experience to drive measurable results for our clients."
Interested in a complimentary consultation? Contact the team here.